Jailed Rowan County Clerk Kim Davis couldn't stop two men from receiving a marriage license on Friday morning.
James Yates and William Smith stepped to the counter around 8:15 a.m. They handed Deputy Clerk Brian Mason their identification. Mason issued the license without hesitation. For the first time in the county's history, a same-sex couple exited the clerk's office with authorization to marry.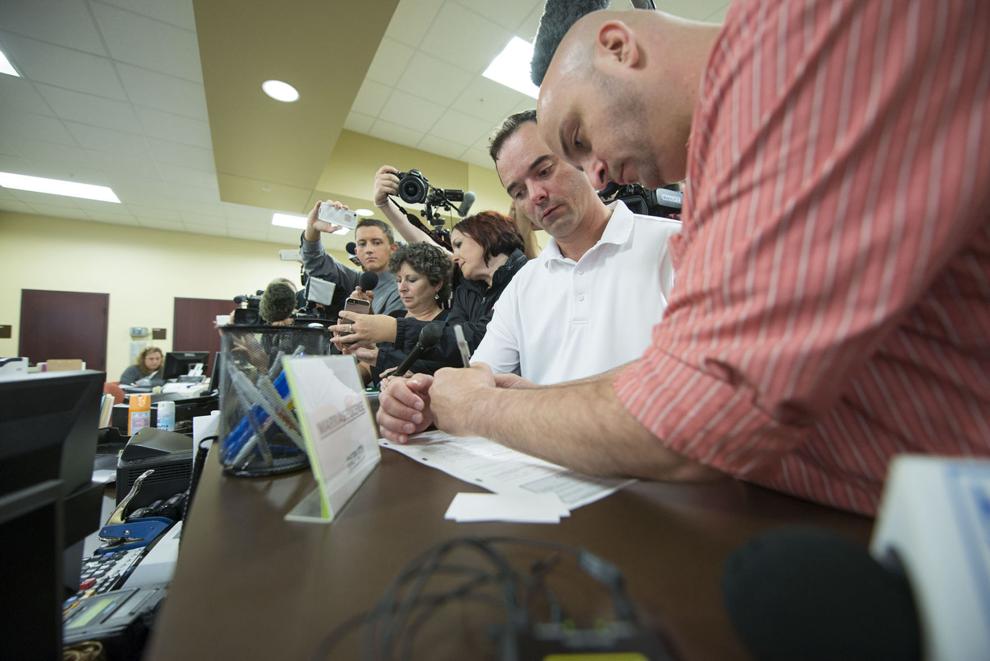 "This means, at least for this area, that civil rights are civil rights," said Yates.
Mason said he was "somewhat" relieved after he issued the license.
Rowan County Clerk Kim Davis was still incarcerated at the Carter County Detention Center on Friday. On Thursday, Judge David Bunning found Davis in contempt of court and she was later jailed.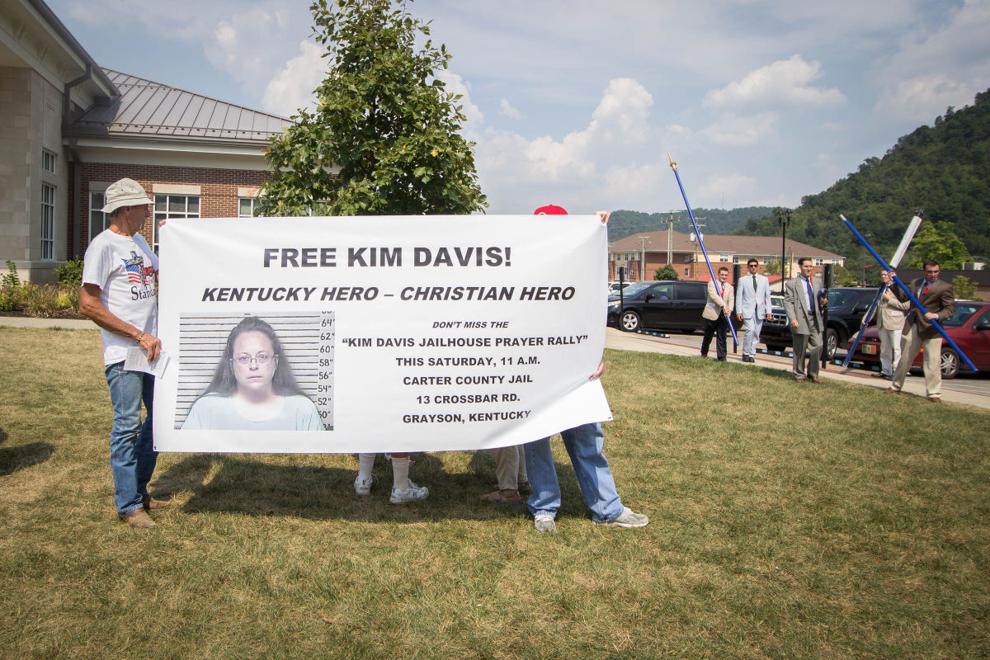 "It's a sad day in America when you can be arrested for your Christian beliefs," said Michelle Kinder, who rallied for Davis on Friday.
Five of the six Rowan County deputy clerks agreed to issue marriage licenses after Bunning's demand. The only deputy clerk who refused was Davis' son, Nathan Davis. Nathan Davis was in his mother's office throughout the day with the door shut and blinds drawn. A man carrying a bible joined Nathan Davis in his mother's office around 11:45 a.m.
Fifteen minutes later, Dr. April Miller and Karen Roberts walked into the clerk's office hand in hand. The couple sued Davis in July after she denied their license request. Mason filled out the paperwork and told Miller and Roberts to "have a good day."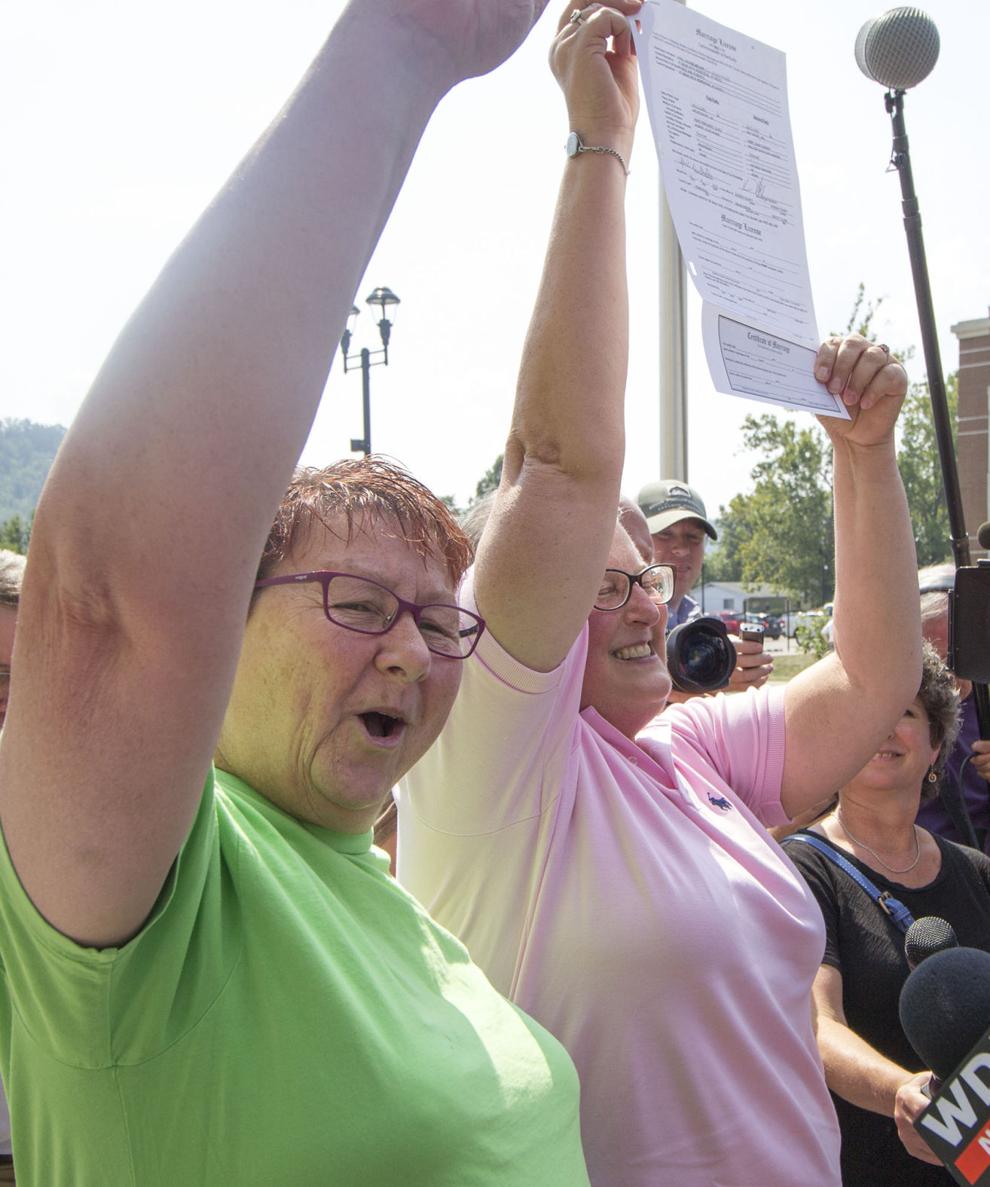 "The only people who can invalidate this license are Karen and I," said Miller.
Opposite-sex couples in Rowan County journeyed to the clerk's office on Friday as well. Glenn and Judy Richardson of Clearfield wanted to wait until "the circus" calmed before they took the next step toward marriage.
"I think [same-sex couples] deserve the chance to be miserable like the rest of us," said Glenn Richardson before he left the clerk's office with his fiancé. 
David Ermold and David Moore were the final couple to ask for a marriage license in Morehead on Friday. The couple stepped to the same counter they pounded their fists on when Davis rejected their request again on Monday. They burst out of the clerk's office five minutes later, license in hand.  
"It feels like I'm a person," said Ermold with tears rolling down his face. "It's a little bittersweet ... I didn't want our marriage to mean someone had to go jail. I will forgive her if she can forgive me."
Kim Davis' husband Joe Davis told reporters Friday morning his wife "is in good spirits" and will remain in jail for as long as it takes to defend her beliefs. He said Bunning is a "coward" and a "bully" and he and Kim Davis have received death threats.
Joe Davis also said he's "boycotting" Morehead State University because of a statement issued by MSU President Wayne D. Andrews condemning Kim Davis' actions. "They won't get a dime of mine," he said.
Despite ordering the deputy clerks to issue licenses, Bunning said he wasn't sure if the documents are valid without a signature from Davis. Rowan Judge-Executive Walter "Doc" Blevins said he believes the licenses will be valid.
"I hate to see [Rowan County] put in this light because of one person's convictions," said Blevins.
Mary Hargis, a 63-year-old spokeswoman for the Rowan County Rights Coalition, was at the clerk's office after breaking her wrist while marching last weekend. "This helps me heal," she said.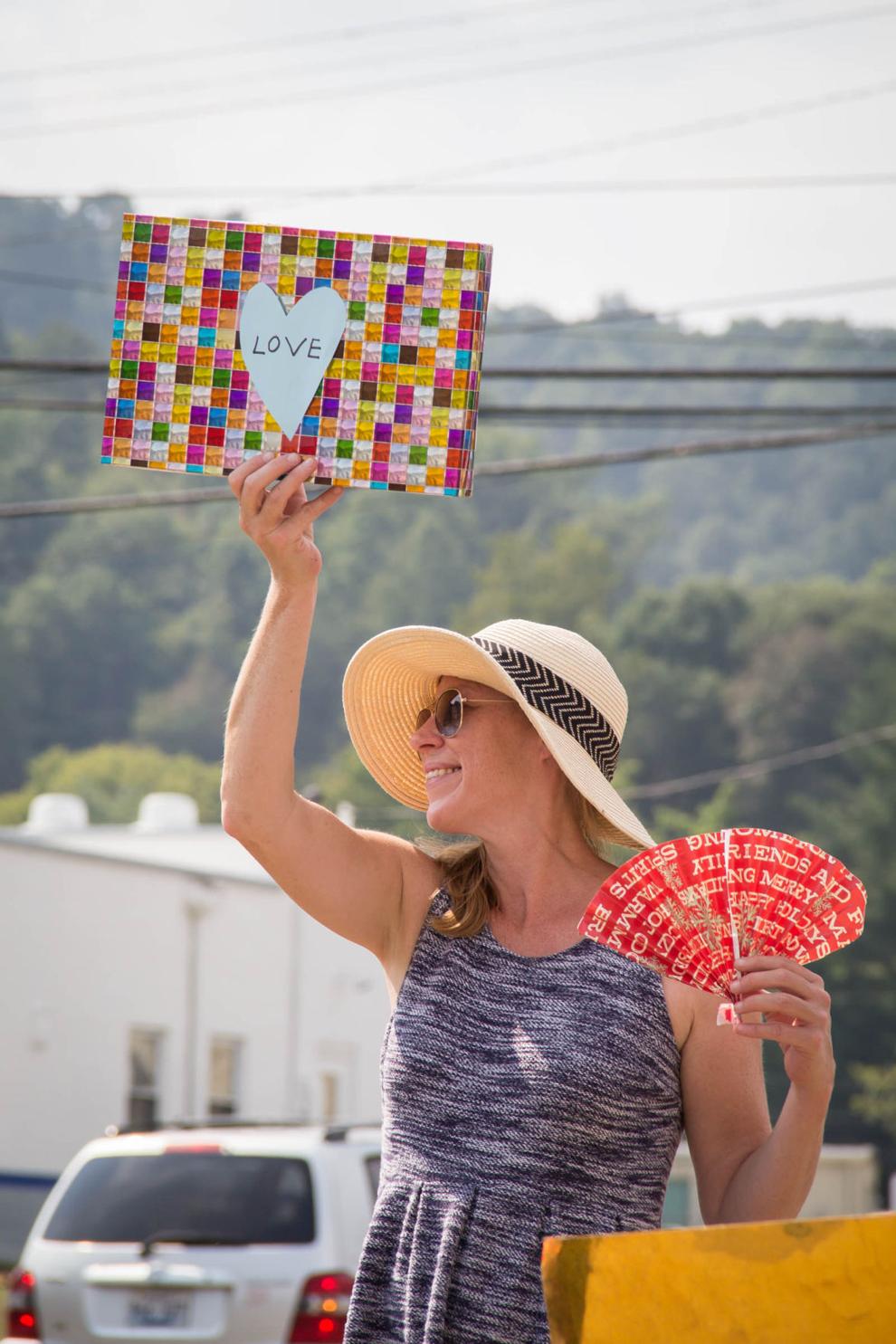 On Friday, at least four same-sex couples went home with the right to marry in Rowan County.