The increase in e-books and virtual holdings continue to grow at Morehead State, but most undergrads still prefer printed books. 
The Camden-Carroll Library has continued to shift its efforts from print to e-books in order to benefit students' learning experiences. However, most undergraduates still prefer print materials despite the new emphasis of virtual learning they have encountered. 
"I think that everybody learns differently, so I understand that give and take about holding a book or having to look at e-materials," said David Gregory, Dean of the Camden-Carroll Library, "I also understand, though, that in an academic situation, having the most reliable and newest data is very important for any subject area."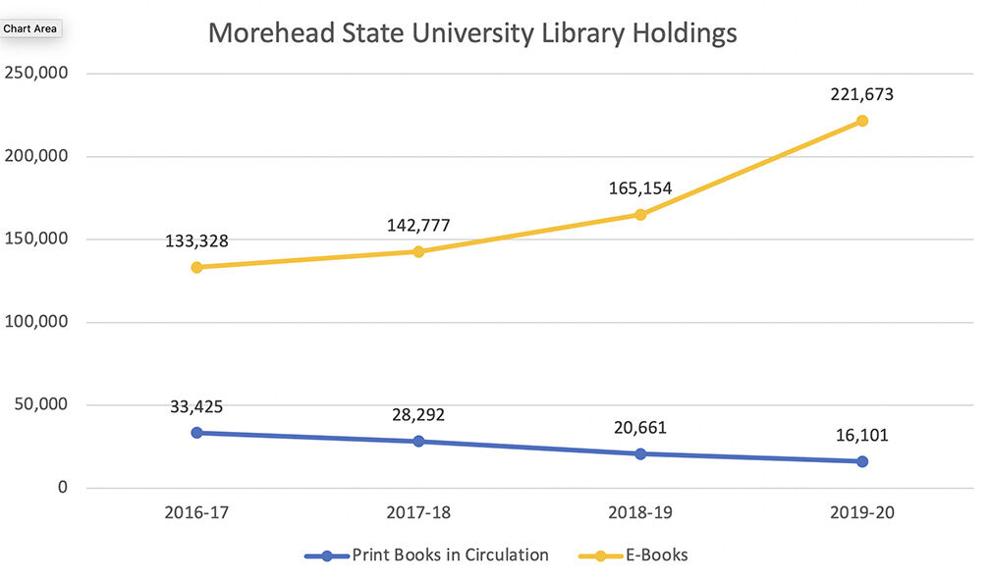 The availability, accuracy and diversity of e-books has led the library holdings within the past four years to decrease their circulation print material by over half its quantity, while e-books have almost doubled, according to the MSU Profile, an annual publication produced by the university's Office of Institutional Research and Analysis. 
"In general, I believe that information resources are going e-resource for everything," said Gregory, a Clay County native. "We are following basically what is happening in the world today."
However, according to a recent online survey many MSU students still prefer reading print material, including Logan Pennington, a junior space systems engineering major.
"I enjoy print books more because I find it easier to stay focused and keep track with reading on paper than a screen," said Pennington. "After a long reading session my eyes are less strained from ink rather than pixels."
The survey compared the Library Journal's Academic Student E-book Experience Survey of 2018, which found 84% of students agreed with the statement, "I have an easier time reading print books than e-books."
However, the library's e-books are projected to increase as the pandemic has made them more necessary this year. 
"When we closed earlier this year suddenly our e-resources became very important to professors and students," said Gregory. "We are looking more and more at e-materials, and we are being asked to do that in case something like this happens again."
The library will continue its efforts to increase the virtual resources available to students, but will still take requests for print material they might want.