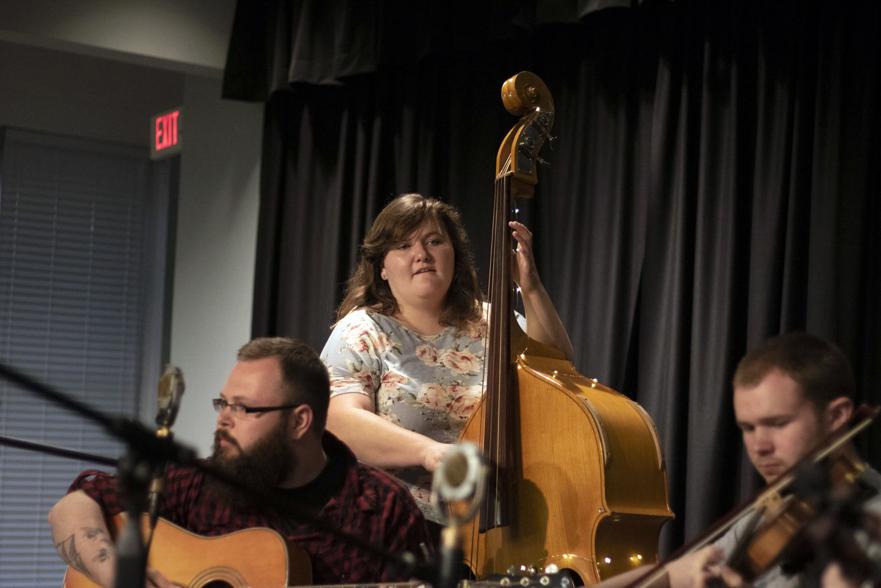 A woodworking kit and a handmade dulcimer sparked Sarah Morgan's love for traditional music.
Her grandfather built her first instrument, a mountain dulcimer, from a woodworking kit and tucked it away in a closet. Her parents later discovered it when she was around eight-years-old and made her learn to play as a part of her homeschool education.
"At first, I hated it. At first, it was terrible," said Morgan, a senior traditional music major. "But they got me started and then after a year I loved it."
Her parents told her she only had to do it for a year, and if she hated it, she could quit after that. Now, she plays the bass and guitar and is in a bluegrass band, The Michelle Canning Band.
Over the summer, she traveled with The Michelle Canning Band throughout the northeast.
"I did a week-long tour with Michelle Canning, who is a banjo player and a graduate from the Traditional Music Center," said Morgan.
They toured to New Hampshire, Connecticut, Rhode Island and a couple other cities in the north.
"It all started with the mountain dulcimer," she said. "Throughout the years the dulcimer has like blossomed into other things, so it's kind of opened up other opportunities into playing just old-time and traditional music in general."
Morgan hosts the square dances held at the Rowan County Arts Center each semester.
"I grew up square dancing and contra dancing and I wanted to organize a square dance for a project in an arts administration class that I was taking," Morgan said.
She did, and about 80 people turned out to the event. After that, she decided to start holding the square dances three or four times every semester.
"This dance, our September dance, is sort of the two-year anniversary," she said. "It's been a lot of fun."