The anti-gay Westboro Baptist Church pickets funerals, protests against Jewish institutions and now plans to ridicule the actions of Rowan County Clerk Kim Davis in Morehead.
A journey to the Rowan County Clerk's Office on Oct. 19 was added to the schedule on the church's website with the following rationale.
"As it happened, the Supreme Court of the United States, fulfilling their destiny, made same-sex marriage the law of the land. The duty of all mankind is to OBEY the laws of God and the laws of man. Enter, Kim Davis. Rowan County Kentucky Clerk, with high-dollar salary and digs, she acquired, ONLY after she took an oath to uphold and defend the constitution and the laws."
Westboro Baptist maintained its stance against same-sex marriage but contends that Davis must follow the law in the post.
"Just note Kim Davis ... God will NEVER have Same-Sex Marriage, but he does not require YOU to disobey to deal with this nation. As these words are typed, the nation faces relentless, never-seen fires in the west and hurricane force never-seen flooding and storms in the east. AND, God sends the shooter again and again. God has HIS weapons in HIS armory, so Kim Davis needs to HUSH and OBEY the law that she helped bring about."
The church is also scheduled to protest at Morehead State University. On Oct. 9, MSU President Wayne Andrews sent the following message to students and faculty after the university was contacted by the Westboro Baptist Church. He said the church intends to protest in front of the campus police station on Oct. 19.
"Members of the MSU community,
We have been informed that representatives of the Westboro Baptist Church (WBC) of Topeka, Kansas, intend to picket at MSU on Monday, October 19, 2015, from 9:10-9:40 a.m. WBC has been identified by the Southern Poverty Law Center as a national hate group. Their language and rhetoric is offensive, hurtful and provocative.
Let me be absolutely clear. This group and others like it completely contradict the core values of Morehead State University. While they do have a right to peacefully assemble and protest on a public campus, our allowance of their presence should not be misunderstood as condoning their behavior or supporting their rhetoric.
"It saddens me that recent situations in our community have brought this kind of negative attention to our city and campus. Nevertheless, we are forced to deal with the consequences. I ask for your support in minimizing the impact of the WBC's brief visit to the extent possible. Understanding that they thrive on anger and attention, it is best for all of us to turn our energy to more positive outlets.
Morehead State's first responsibility is to assure a campus environment supportive of teaching, learning, diversity and inclusion. We will carry out our responsibility by striving to guard the welfare and protect the safety and security of our faculty, staff and students. In view of the specific information we have received, I have met with a team to develop appropriate plans. I will communicate with the campus community next week with more details on how the institution will deal with this event.
As we consider the impacts of hate groups such as WBC, keep in mind the words of Martin Luther King, Jr.:
"Darkness cannot drive out darkness; only light can do that. Hate cannot drive out hate; only love can do that."
Thank you for your attention to this important matter.
Sincerely,
Wayne D. Andrews
President"
Andrews told Morehead State Public Radio that most of the people who protested for or against Davis this summer were "not insulting of one another and certainly were not violent in nature." 
In Christ and Solid Rock, Kim Davis stands.
---
A roaring crowd of equal rights advocates battled Kim Davis in the scorching summer heat every day at the Rowan County Courthouse.
Andrews also told MSPR that he encourages students to refrain from engaging in vulgar discourse with the church members. 
The Westboro Baptist Church has drawn criticism for its evangelistic approach at protests, which often includes waving signs condemning homosexuality. In a press release, the church referred to members of Morehead State's ALLYANCE – a student organization that promotes unity between all students – as "nothing more than a group of reprobates kicking God in the shins." 
The church used social media to reveal new signs it plans to display in Morehead. One sign showcased on the Twitter account includes the words "Kim Davis caused fag marriage."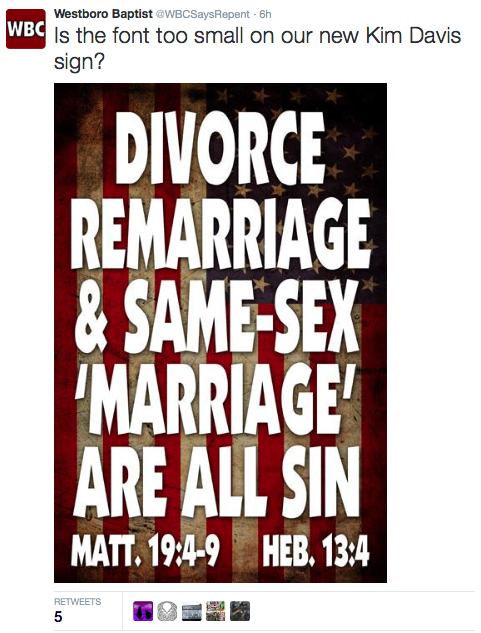 The group has failed to attend funerals, ceremonies and events initially listed on its schedule in the past. But group members picketed at three churches in Louisville on Sunday. The MSU Student Government Association plans to host a "Much More Love Day" in response to the group on Monday.